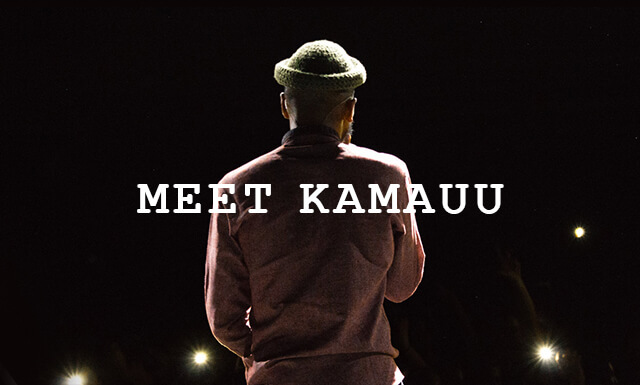 A higher calling of service interconnects humanity as a whole. On a primal and subconscious level, we all share a universal sense of duty. Washington D.C.-born and New York-based artist, rapper, poet, and thinker KAMAUU celebrates the call to serve. In fact, it propels and fuels his own creativity as each and every musical move and mood results from a dutiful responsibility.
"Everything on the planet is here to serve the ecosystem, and we're not the exception—because we were created here just like everything else was," he says. "There's a certain level of bliss we give ourselves access to when we contribute to something bigger. My point is not necessarily to be a musician, but to serve. However, I can do so through music," he smiles.
He's been serving through music since the dawn of his own existence. Joking he "came out of the womb singing," his childhood and musical taste would be enriched by a close and inspiring relationship with his parents and open exchange of ideas.
As such, KAMAUU's mind expanded at a dramatic pace.
"My dad always was and still is a great appreciator and collector of records and art from around the world," he goes on. "He quenched his own thirst to travel by surrounding himself with the places he wanted to go. I grew up a well-traveled child without the funds to travel physically."
After years of quietly honing a singular style, he made his proper debut with a guest appearance on "QUEEN" from No Wyld's critically acclaimed 2015 Ascension EP. His first solo single "Jusfayu" generated over 10 million cumulative streams as he lent "The Icarus" to The Birth of a Nation: The Inspired By Album. He reteamed with No Wyld on Nomads and dropped his own A Gorgeous Fortune EP during 2016. A year later, he unleashed his full-length debut, TheKAMAUU-CASSETTE: ŭRTH GōLD, and continued to stoke buzz after signing with Atlantic Records in 2015.
Along the way, he carefully assembled what would become his third offering for the label, the "TheKAMAUU-CASSETTE: MíXD GRēēNS." As the music weaved together threads of rap, reggae, soul, and even doo wop, a distinct feeling doubled as the glue.
"I named it 'TheKAMAUU-CASSETTE: MíXD GRēēNS,' because I feel green right now," he admits. "I feel fertile. I feel like things are growing from me. The seeds planted by my elders and experiences are on the brink of breaking the surface, and I'm excited. I have no fear about my future. It's a feeling instigated by observation. Green represents growth. I'm aware."
Chirping birds and flutes sound the dawn of this growth on the project opener "bamboo." KAMAUU slips from nimble rhymes—"I ain't afraid to let them see the teeth"— into a shuddering and soulful refrain as he chants, "Oh Lordy." His distillation of vibes immediately intoxicates.
"'bamboo' is about growing through adversity," he goes on. "I based the project around this song. Feeling like you're surrounded by uncomfortable things makes you grateful for the lessons you gain. There ain't no friend like defeat, because that's the only way to get yourself to a place of understanding." Elsewhere, airy horns pipe through the delicate glitchy beats of "ivy" as his voice transfixes with jazz-y crooning and cadences. The coy and flirty sexual advances of "absinthe"— "Gonna make you sweat first"—actually encode a double entendre augmented by a surprising and unexpected influence…
"It's very operatic and influenced by Mary Poppins and old Disney animation," he continues. "I wrote it to sound sexual, but it's actually about dancing. The most effective way to gain loyalty as a musician is to make people dance and sway."
"Clover" incites a similar response. With its unpredictable groove, unmatched swagger, and downright powerful performance, the track culminates on a powerful message, "'Cause love is best with no end date'."
In the end, KAMAUU's commitment to service will undoubtedly encourage listeners for a long time to come.
"I hope I can inspire others to grow," he leaves off. "I'm not a teacher; I'm just a classmate. I don't have a lesson plan, but I have some notes I hope to share in my songs. Living and serving will only create better art over time."